As Common As a Crisp Radish
There are those items in our daily routines that are simply there all the time and we barely notice – like the breeze that comes in the window above my home desk. At summer farmers' markets, it is radishes that are virtually always evident. They might be easy to overlook if they weren't such a versatile addition to warm weather meals. Don't walk past the radishes as you develop your "sidewalk foraging" skills and gather your farm grown purchases. They can become the first and most frequent root crops that you use.
Although thought of as pungently hot, radishes can vary in flavor, shape, and color depending on the variety. The French Breakfast Radish, which is an oblong, slender bulb, more than half red with a white tip at the sprout end, are quite mild. They earned their name because they are not spicy and provide a wonderful topping when sliced on toast spread with butter. The Cherry Belle Radish, a solid red round variety and the Sparkler Radish, round but mostly red with a white tail can pack a bit more kick. Heirloom varieties can come in varied colors like white, purple, and gold and are often bunched together. As with many market crops, the sellers may have samples out to try or you can ask for a sample.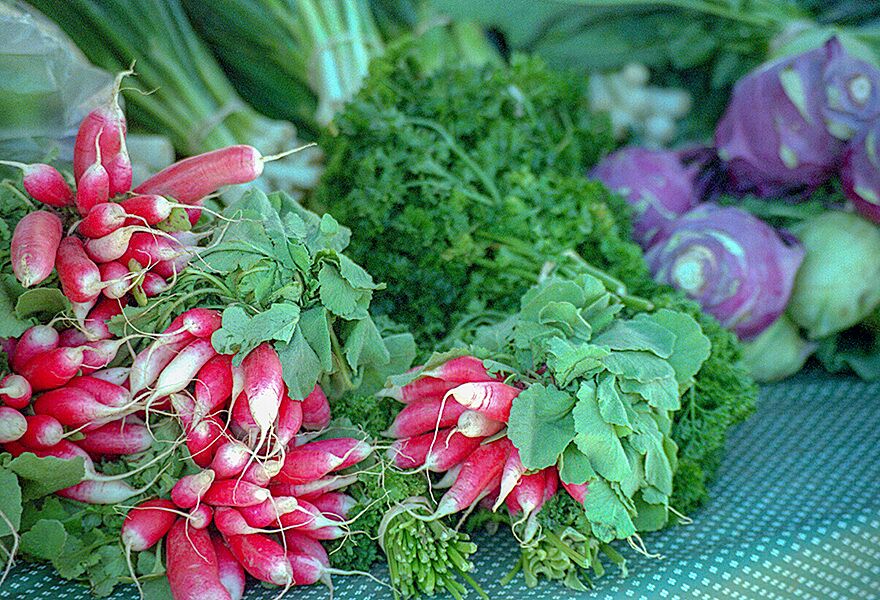 Radishes are most frequently sliced into green salads often with their seasonal crispy partners, cucumbers. They can also be chunked into pasta salads or whole grain bowls, or sliced thin and served atop your cheese, sausage, or hummus on crackers or bread. Their thinly sliced discs can add crunch to sandwiches, especially egg or tuna salad. Their piquant crunch is welcomed in tacos or Cole slaw.
And don't overlook utilizing the radish greens which can be made into pesto or quickly sautéed. They can be mixed with other greens like kale, spinach or mustard greens. Radishes will store well in the crisper drawer of your refrigerator so are friendly to building solo meals. They are best eaten fresh, though, so buy at least one bunch at every farmers' market visit.
To use, chop the radishes from the greens close to the end of the green stalks near the bulbs. The radishes themselves will need to be rinsed, and sometimes even need a gentle scrubbing before use. They grow underground so could have some bits of dirt still clinging to each bulb. To clean the greens, fill a bowl or wide glass with cold water and place in the sink. Dip the greens, so the bushy end of the stalks are submerged into the water, swish around then let soak for 10-15minutes. Swish again then pull straight up so any dirt falls into water. Put in a colander or strainer so water drips off. Using the tip of your chef knife, slice each bulb in half. Place flat side on cutting board, then slice each piece thinly or in chunks depending on your end use.

Published on Jul 11 2019
Last Updated on Jul 23 2019